I enjoyed SAKURA beverage last year.
Then I am enjoying this year, too.
I got SAKURAFUL Frappuccino with Reward ticket on the 15th (on the first day). Topped SAKURA & Strawberry shaved chocolate like flower petals, and SAKURA milk pudding & strawberry jelly in the bottom. I offered them to customize to change to soy milk and add while moca syrup. They offer this Frappuccino until February 27.
Then I bit Sakura donut on the 22nd
Topped with a thick, moist, resilient donut dough, a cherry-flavored sweet coating, cherry blossom powder, and freeze-dried salted cherry blossom. It has an exquisite taste balance with sweetness and moderate salty contrast and unity with donut dough.
And I ate SAKURA chiffon cake this time. 248kcal
Very Japanese, huh? The pink topping is salted Cherry blossom, tastes like cherry leaf of sakura mochi below.
Finnaly, I bought the new sakura stainless bottle even though it's very expensive. 4300 yen + tax. 400ml (14 fl oz)
I love SAKURA chiffon cake! I strongly recommend that you give it a try.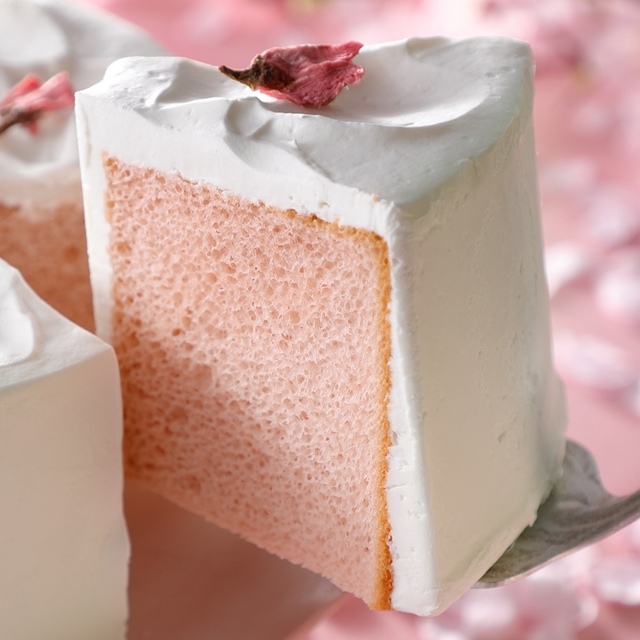 This season's staple chiffon cake comes up again this year.
We moistened the powder of cherry leaf in the moist, sticky dough, and topped with salted cherry blossoms. The sweetness of the cake is accented with saltiness, and it will be enjoyed until the last bite. Also, the raw materials for cherry blossoms are all domestic.
The color of the dough and the cherry blossoms of the topping is a gentle color that looks like spring. Please enjoy the early spring visit.