I haven't posted an article about Starbucks for years. But now, for some reason, articles about it from a few years ago are popular. Even though it is a limited time product and out of season.
Does that mean that people outside of Japan are interested in Japan-only Starbucks products? According to Google Analytics, people from China visit this blog a lot.
Anyway, speaking of autumn in Japan, it is the season of yaki-imo (baked sweet potatoes). Starbucks Japan offers the sesonal products from Thursday, September 21st.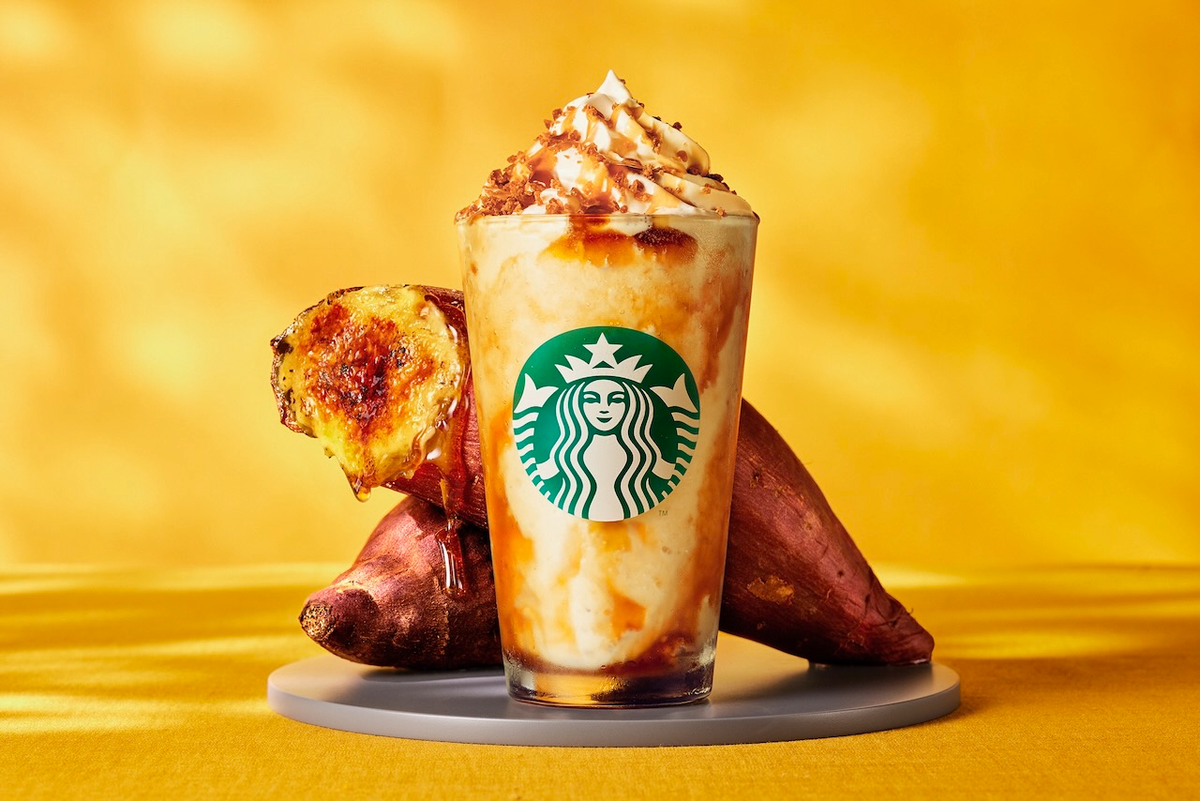 Frappuccino with the image of a "baked sweet potato brûlée," which is a baked sweet potato with sugar burnt on it.

This Frappuccino® has the aroma and creamy flavor of a baked sweet potato covered in sugar and roasted over a burner.
Slightly caramelized baked sweet potato chunks are blended with milk and topped with a savory baked sweet potato brûlée sauce and crispy brûlée chips. The baked sweet potato brûlée sauce and brûlée chips are also topped with whipped cream.
From the first sip through a straw, you will enjoy the savory flavor of the baked sweet potato and the crispy texture of the brûlée chips.
This Frappuccino is very popular and sells out quickly. You should get it on weekdays, by 3 pm, maybe? I got this on Thursday afternoon.
I like sweet potato so I wanted to try it again the next day, but I couldn't because it's holiday - Autumnal Equinox Day. So Pumpkin Spice Latte it is
Creamy, sweet pumpkin flavor

A latte made of espresso and milk combined with pumpkin spice flavor sauce, topped with whipped cream and nutmeg.
This drink is inspired by pumpkin pie, a favorite in American households and a favorite on the table in the fall. Take your time and enjoy the fall-inspired flavor of creamy, sweet pumpkin accented with nutmeg and other spice flavors.
After I went to Apple Shinsaibashi to get my new AirPods, I needed to eat something sweet. But I missed the frappuccino because it's Sunday. There were another sweet poteto flavor - Sweet Potato Chiffon Cake.
Chiffon cake with a rich sweet potato flavor

This chiffon cake is topped with golden sweet potato cream made from sweet potato paste, allowing you to enjoy the sweet potato flavor from the first bite to the last.
The moist and chunky chiffon dough is kneaded with cinnamon and baked sweet potato powder to enhance the compatibility with the sweet potato cream. The chiffon dough, the whipped cream covering the chiffon dough, and the sweet potato cream with its gentle sweetness and smooth texture are a perfect match, making this chiffon cake full of rewarding sensations.